Digital Marketing Job Description
special offer
Post this Digital marketing job ad to 100+ job boards with one submission
Easy setup
•
No credit card required
•
Free trial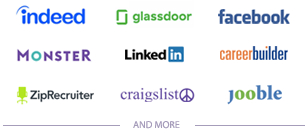 The Digital Marketing Executive plays a crucial role within the Marketing department. More and more parts of Marketing strategy are moving into the digital sphere as an increasing amount of customers are using the digital platform to research products and purchase services. The main responsibility is to handle the marketing campaigns in social media, on internet channels and websites of the company and all the landing pages of the establishment.
The most appropriate candidate should have extensive knowledge of IT-technology and be able to respond promptly to all clients' responses in the various e-platforms. Time management, creativity, and innovation to write all the posts and announcements are just a part of their core day-to-day responsibilities.
Digital Marketing Responsibilities:
Develops strong and durable relationships with clients and viewers of the e-platforms belonging to the company, in order to maintain positive feedbacks from loyal clientele as well as from new customers.
Creates a specialized marketing plan especially focused onto targeted groups on social media platforms such as Facebook, Instagram, Twitter.
Frequently releases well-timed press releases, informative articles, and Instagram posts.
Uses SEO optimization techniques and visualization.
Launches various competitions for customers online to stimulate customer interest in products.
Cooperates and communicates with other product-related agents and companies.
Occasionally populates questionnaires/surveys to update the customer preferences list.
Analyses competitors' visuals and interfaces, and strives to achieve the best possible graphic experience.
Reports the data analytics to the Management.
Digital Marketing Requirements:
Bachelor's Degree or Higher diploma in Marketing/Digital Marketing or another related field.
Experience as a Digital Marketing Executive or Marketing Officer.
Knowledge of social media tools, internet resources, and marketing of traditional and online marketing, concepts.
Highly competent with email and exchange of comments on social media channels.
Website management and maintenance.
Knowledge of English, Russian and other languages can be a strong asset.
Communication and interpersonal skills.
Creative mind and critical thinking.
Extensive knowledge in Microsoft Office (Excel, Word, and PowerPoint), Outlook and Adobe Photoshop/Illustrator.