Marketing Manager Job Description
special offer
Post this Marketing manager job ad to 100+ job boards with one submission
Easy setup
•
No credit card required
•
Free trial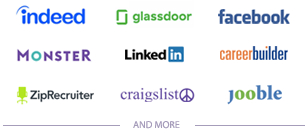 Our company is looking for the perfect candidate for the position of Marketing Manager. The most successful candidate should be a highly communicative individual with a high understanding of marketing principles and procedures. Our Marketing Manager will be responsible for running the whole marketing strategy and will be strongly connected with the sales department.
Working with a dedicated marketing budget, the individual will analyze and compare the market within which our company is working. After the market of interest is identified, the Marketing Manager will implement various advertising tactics and branding through diverse channels. As the primary reason is to boost sales, a good Marketing Manager, like the one we are in search of will use all the tools available to reach out to and satisfy client needs, simultaneously make sure our company is reaching its sales targets. If you possess interpersonal skills and can easily adjust to a fast-growing population of customers with various needs, we need you in our company.
Marketing Manager Responsibilities:
Conduct proper market analyses on a frequent basis.
Analyze which mixes of marketing strategies are the most useful for our company to reach the highest possible number of clients.
Run various campaigns in local and external markets.
Use social media channels to reach specific interest groups.
Utilize traditional channels of marketing and advertising such as newspaper, radio and television. Process the results and decide which forms of communication are the most effective.
Take the responsibility to organize events, familiarization trips, and B2B meetings to enhance employee knowledge in marketing initiatives.
Finalise marketing material such as brochures, banners, digital leaflets, and flyers.
Monitor our company's website and design interactive tools to obtain customer behavior data.
Prepare all the reports with viable results and shares with the Management.
Marketing Manager Requirements:
Marketing Degree or other related Higher Diploma or Certification.
Proven experience as a successful Marketer.
Ability to adjust marketing behavior due to fast-changing client environment.
Be a public person as this aids the Marketing manager to have an extended connection with service providers, social media and digital marketing campaigns.
Knowledge of website tools for analysis such as Google Analytics.
High competence with Microsoft Office and Outlook.
Interpersonal skills and a natural leader.
Highly involved individual in latest trends in marketing field.