10 Best Hr Job Descriptions
Hr Job summary 1
The Hr plays a key role in supporting a variety of human resource initiatives and serves as the primary contact for employees, managers, and applicants throughout the hiring, onboarding, and off-boarding processes. Additionally, this role works to ensure data integrity and accuracy across various systems and files.
Hr Duties & Responsibilities 1
special offer
Post this Hr job ad to 100+ job boards with one submission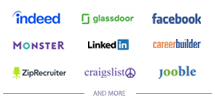 Hr Requirements & Skills 1
Hr Job summary 2
We are looking for an Hr to handle a variety of personnel related administrative duties. Your role is to act as the liaison between the Hr manager and employees, ensuring smooth communication and prompt resolution of all issues. You will also support our daily Hr activities and assist in coordinating Hr policies, processes and relevant documents. An ideal candidate for the human resources assistant position has experience in a manufacturing environment. For this role, you should be able to work autonomously and assist in more complex Hr duties, like posting job ads, coordinating interviews and contacting candidates. Ultimately, you should be able to ensure our HR department is organized and operates to attract, hire and maintain our employees.
Hr Duties & Responsibilities 2
Hr Requirements & Skills 2
Hr Job summary 3
We are looking for an experienced Hr who will be responsible for direct support and guidance in various functional areas of human resources and payroll. The ideal candidate has a minimum of three years of experience in human resources working in a fast-paced environment. Positive attitude, effective communication, follow-through, and attention to detail are must-have attributes for this position. The Hr supports processes associated with the employee lifecycle: recruitment, onboarding/exiting, benefits administration, training and development, and performance management, in addition to employee relations.
Hr Duties & Responsibilities 3
Hr Requirements & Skills 3
Hr Job summary 4
The Hr will assist in providing human resource support for the company. The selected individual will provide counsel and assistance to broad employee populations, including front-line associates and senior managers. This role will be responsible for end-to-end human resources work including recruitment, training facilitation, employee relations, management consulting, metrics reviews, and all applicable annual processes.
Hr Duties & Responsibilities 4
Hr Requirements & Skills 4
Hr Job summary 5
The Hr is expected to perform a variety of duties including but not limited to the recruiting, screening, hiring, training, and retention of quality personnel. This person will also coordinate with the scheduling department to ensure appropriate matching of personnel availability and skills to meet client needs. Experience in Human Resources and Staffing preferred.
Hr Duties & Responsibilities 5
Hr Requirements & Skills 5
Hr Job summary 6
The Hr will be responsible for assisting with the administration of the day-to-day operations of the Human Resources Department including assisting and serving as a back-up for payroll administration. The Hr carries out process, reporting and administrative duties that include services in time management, benefit data management, payroll processing and overall employee data integrity improving the employee experience to promote the Company culture and employee engagement.
Hr Duties & Responsibilities 6
Hr Requirements & Skills 6
Hr Job summary 7
The individual will provide additional Hr assistance for ad-hoc projects, absence coverage, assistance with scheduled employee events, reporting, etc. The Hr will be integral to the day-to-day execution of assigned human resources duties in order to support the business strategy.
Hr Duties & Responsibilities 7
Hr Requirements & Skills 7
Hr Job summary 8
This role ensures accurate and timely delivery of the payroll services compliant with the organization and legal requirements; manage vendor relationships; respond to the payroll operations queries.
Hr Duties & Responsibilities 8
Hr Requirements & Skills 8
Hr Job summary 9
We are seeking a Hr to join our team! You will perform activities in human resources from recruiting new hires to retaining existing hires.
Hr Duties & Responsibilities 9
Hr Requirements & Skills 9
Hr Job summary 10
Hr Assistant will be responsible to recruit, interview and onboard new employees.
Hr Duties & Responsibilities 10
Hr Requirements & Skills 10
Get more candidates
Post this Hr job ad to 100+ free job boards with one submission