Sales Manager Job Description
special offer
Post this Sales manager job ad to 100+ job boards with one submission
Easy setup
•
No credit card required
•
Free trial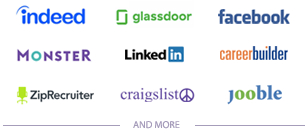 Our Sales Manager is one of the most crucial positions in our company when it comes to producing revenue and ROI. The Sales Manager is responsible for overseeing and leading the sales team, whose primary goal is to maximize profits by following our company's objectives and policies. The sales department is directly tied to marketing, as the Sales Manager has to analyze customer psychology, purchasing tendencies, and conduct market analyses in the company's market areas.

The successful candidate should be experienced in public relations as day-to-day activities include communicating with various ethnicities, negotiating with them by presenting the advantages of our products and at the same time anticipating the client's needs, trying to meet those needs with the best possible economic outcome for our company.
Sales Manager Responsibilities:
Creates the Sales Plan for the actual and coming year based on the given budget.
Develops the action plan which shows in detail how the objectives of the Sales Plan are going to be met.
Undertakes all the necessary initiatives to reach customers in all markets by: organizing familiarization trips, presentations to target groups.
In-depth knowledge of market trends for development of sales initiatives. Examines how the prices and products are fluctuating in other companies and develops tactics to avoid competition.
Travel required to meet customers, exchange ideas with other businesses, and do B2C presentations.
Reports to the management team by sending monthly reports, extensive analyses, and clarifies yield margin.
Educates and trains the sales team to increase output, boost sales, and identify new clients within the specified market.
Recognizes alternative ways of communicating and reaching the customer. For instance: billboards, social media campaigns, etc.
Updates the list of agents and associates in order to maintain an extensive network for future cooperation.
Creates a database for all the existing and prospective clients and arranges sales follow-ups.
Sales Manager Requirements:
Obligatory degree in Business Studies Field.
Extensive and deep knowledge of marketing and sales in order to meet objectives and understand the market.
English and other foreign languages.
Previous experience in the field and professional recognition from previous employer(s).
Strong communication skills, ability to respond to difficult situations, and ability to find appropriate solutions.
Self-motivated to achieve personal and team goals.
Ability to present to large groups.
Strong computer skills (Internet, Microsoft Office, Social Media applications).
Interpersonal skills and mentoring abilities.