Graphic Designer Job Description
special offer
Post this Graphic designer job ad to 100+ job boards with one submission
Easy setup
•
No credit card required
•
Free trial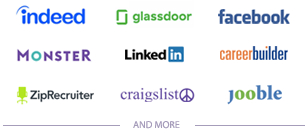 Our company is looking for a creative and motivated Graphic Designer to join our dynamic team. The ideal candidate will have, in addition to great design skills, knowledge of the design trends, the latest updates in the industry and be up to date with the best practices. Our company is a huge believer of team efforts and supporting each other to achieve the best results and we are looking for someone who is knowledgeable, welcomes challenges and loves to learn.
Graphic Designer Responsibilities:
Meeting with clients (in person or online) and generate briefs by understanding the clients needs.
Research relevant topic to come up with diverse ideas that can stand out from the competition.
Brainstorm with the other designers to come up with the best solutions.
Come up with concepts that suit the client's needs.
Execute the design using digital or mixed media depending on the project.
Communicate with the production team if need be.
Keep the client up to date with progress of the project.
Making the files print ready and delivering the finals on time.
Take care of revisions if necessary.
Graphic Designer Requirements:
At least a Bachelor's degree in Design OR a killer portfolio that proves their skills.
At least 4 years of experience in the industry.
Deep understanding of brand design, layout, typography and color.
Knowledge of the print production Process.
Ability to understand client brief AND / OR guide the client to figure out what they need and translate it into a brief.
Ability to create user-friendly info-graphics.
Be an expert on industry standard software like Adobe and Quark.
Great communication skills.
Team player.
Great time management skills.
Solution oriented.