10 Best Security Job Descriptions
Security Job summary 1
We are looking for a competent Security to undertake the surveillance of our premises and protection of our staff and visitors. You will be responsible for detecting any suspicious behavior and preventing vandalism, thefts or other criminal behavior. A Security must be well-trained in surveillance and dealing with perpetrators. The ideal candidate will inspire respect and authority as well as possess a high level of observation. The goal is to help the company in maintaining excellent working conditions by keeping our facilities safe and problem-free.
Security Duties & Responsibilities 1
special offer
Post this Security job ad to 100+ job boards with one submission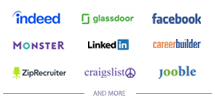 Security Requirements & Skills 1
Security Job summary 2
The Security is responsible for maintaining a secure and protective environment by observing and taking action and reporting incidents or security violations involving the residents and initiating emergency response as appropriate. The Security monitors alarms and surveillance cameras, patrols the buildings and grounds, checks badges or proper identification at facility gate/entrance, and handles after-hours emergency calls that would enhance the safety of facility residents, employees, and visitors. Responsible for the dissemination and coordination of emergency responses and information, and notification to facility management and law enforcement if appropriate, in the event of emergency and/or security violation situations. The Security performs monthly fire extinguisher inspections in all buildings. Identifies unfamiliar persons within the homes/buildings as captured on surveillance cameras and during routine patrols. The Security may train other security officers. Works at a facility serving individuals who have complex needs and who may exhibit aggressive and/or self-injurious behaviors. Works under general supervision with moderate latitude for the use of initiative and independent judgment. Completion of work requires the use of established methods and/or techniques and decisions are varied but based on well-defined guidelines.
Security Duties & Responsibilities 2
Security Requirements & Skills 2
Security Job summary 3
A Security's duties include being a visible detterent to criminal activity, providing security for visitors, protecting and patrolling buildings, assets and premises as assigned. The Security is responsible for responding to all emergency codes, internal/external disaster events as needed and/or requested, conducting preliminary investigations of reported incidents, and performing other security related tasks as directed by a security supervisor/and or Manager.
Security Duties & Responsibilities 3
Security Requirements & Skills 3
Security Job summary 4
We are looking for a high quality Security. An ideal candidate for this position should possess a strong, confident presence, be able to calmly handle high stress situations, and be very alert and observant of the surroundings.
Security Duties & Responsibilities 4
Security Requirements & Skills 4
Security Job summary 5
We are currently searching for a Security. The Security is responsible for the safety and security of the facilities they protect. Our security officers act as a visible deterrent to crime and client rule infractions; they detect and report suspicious, unsafe or criminal acts at or near their assigned posts which may be a threat to the property, clients, guests or employees at the site.
Security Duties & Responsibilities 5
Security Requirements & Skills 5
Security Job summary 6
As a Security, you will be responsible for observing and reporting activities and incidents at an assigned client site. This will involve, providing safety of client property and personnel, while making periodic tours to check for irregularities and to inspect protection devices and fire control equipment. We are looking for Security who are energetic, personable and dependable, with a strong commitment to providing world-class customer service and exceptional problem-solving skills. This will require that you are able to effectively handle potentially difficult situations in a fast-paced environment. It is also important that you display excellent verbal and written communication and interpersonal and active listening skills, as well as the ability to easily establish rapport and credibility with a wide variety of clients and prospective clients.
Security Duties & Responsibilities 6
Security Requirements & Skills 6
Security Job summary 7
We need motivated self-starters with above average customer service skills who are able to work, interact and communicate with coworkers and clients across all levels. Good computer skills are a plus, but not necessary for all positions. Must be able to take both written and oral direction and act in a mature and responsible manner. Must be able to meet and continue to meet any applicable state, county and municipal licensing requirements for Security.
Security Duties & Responsibilities 7
Security Requirements & Skills 7
Security Job summary 8
In this position, you will conduct armed and/or unarmed foot and/or vehicle patrol (interior and/or exterior); control access and egress; monitor closed circuit television and alarm systems; compose reports; deter criminal activity and misconduct; perform other duties as specified in post orders. In addition, you will work at various assignments and may be called upon to work irregular shifts at times with little to no advance notice and performing other duties.
Security Duties & Responsibilities 8
Security Requirements & Skills 8
Security Job summary 9
We are looking for a motivated Security to join our team.
Security Duties & Responsibilities 9
Security Requirements & Skills 9
Security Job summary 10
We are looking to add Security to our team.
Security Duties & Responsibilities 10
Security Requirements & Skills 10
Get more candidates
Post this Security job ad to 100+ free job boards with one submission